About Us
Circle K's Angus Farms is the culmination of dreams, aspirations and hard work of the owners, Redmond and Daniel Keisler.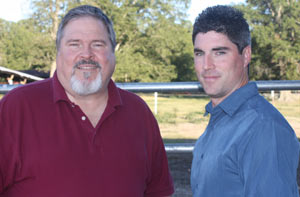 We have a small operation that is never going to be a Tyson Foods, or any other big time outfit. We started out to raise beef & pork for ourselves. Worried that all the unhealthy chemicals and preservatives that are added to our meat has an irreversible effect on our lives, we decided to change what we put in our mouth. After a lot of research, we decided to go with Angus cattle and Berkshire hogs. Look at the selection on "Why Angus" and "Clearly Superior Pork" to see all the reasons we chose these breeds.
We have also through the years evolved so to speak in our education and practice at our farm. We are dedicated to learning and growing to produce the best and highest quality products for our customers. In 2013 we added Grass Fed Grass Finished beef to our product line. We did this because of the education we have received to the benefits of grass fed beef. We started this operation on the principle of giving a better alternative to the conventional processed meat at the grocery store and we succeeded, but that wasn't enough for us. We continue to strive to be better stewards of the amazing creation we have been given, from the soil to the plants and animals. We have many customers who love this better option, but are not sold out to the idea of grass fed beef. So we have just added Grass Fed Grass Finished beef to our product line and will let you decide what is better or best for you and your family. We believe what you eat either causes disease or cures it. It is time to feed the cure and not the disease.
We are dedicated to producing the highest quality beef & pork at a competitive price.
All of our animals whether grass fed or supplement fed are never given any antibiotics, growth hormones, preservatives, or go through any kind of chemical processing that would add toxins to the meat. On our supplement fed animals it takes about 150 days after they are weened and move onto new pasture with supplemental feed before they go to the butcher. Our Grass Fed Grass Finished beef take about 1 year on spring/summer pasture and fall/winter pasture after they are weened. All steers & hogs are processed at a fully USDA licensed and inspected processor.  Our cattle and pastured pigs are custom processed, vacuumed sealed, and cut into your favorite cuts. The beef is dry aged 14-21 days to ensure that you receive the most tender and flavorful product. The beef is available for purchase in quarters, halves, or a whole. Pastured pigs are available in halves or wholes. 
Enjoy the safe feeling you'll experience when you know exactly where your next steak or burger, pork chop or bacon has come from. We like our animals!! They are treated with utmost care and humane methods. It's pretty simple, when they do better, we do better. We hope this brief summary of our modest beef & pork operation gives you a sketch of who we are.
Please feel free to contact us with any questions.