Circle K Angus Farm
Arkansas Raised Beef & Pork
Circle K Angus Farm is a small family farm striving to make a difference by managing our soil and forages in a holistic regenerative manner. The results are cleaner and healthier air, water, animals, and ultimately people.
The number one priority on our farm is to be a good steward of this amazing creation God has given us.  It is our belief that healthy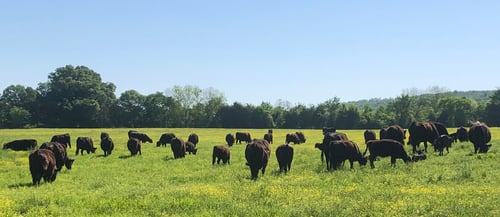 food begins with healthy soil. This is the main reason for our organic practices.
All our cattle are born right here on our farm. We began producing meat 15 years ago, and of course it included grain. Several years ago, as we became more educated and realized the tremendous health benefits, we made some changes to our practices and principles, which has led us to our greatest passion for the future... nature's template for beef that is a 100% forage based system. We do however, still have many customers who love the beef they have purchased from us for many years. Therefore we still produce some grain fed beef and let the customer decide which is right for them. 
We also raise Berkshire Heritage bred pigs for the finest pork available. We have our own breeding stock that live outside on pasture, where they raise their babies until weaning. We then place that group of weaned pigs in a different pasture where they are supplemented with Non-GMO feed and rotated weekly onto fresh paddocks until they reach maturity. Our pigs live their entire lives outdoors in the fresh air and sunshine.  Our animals are always raised WITHOUT GMOs, synthetics, antibiotics, hormones, or animal by products  
We are also looking into adding pastured poultry and lamb to our services. Let us know if you would be interested in these meat products so we can plan to supply your future needs.
We are a small farm, with quality at the top of our list. There is NOTHING you can find in the supermarket that can match the flavor and purity that nature builds into our food products.  Our fields are pristine, and our rotational grazing system provides our animal with fresh forages day by day.  We have reason to be confident you will love our meats, and we look forward to building a long and healthy relationship with you.

Farm Pickup
You can order from our inventory at any time if you want to come to the farm to pickup your order.  Just place your order and we'll contact you to arrange a pickup time.
  Not ready to order?  Be sure to Join Our Newsletter so we can let you know about events & specials!  
Shipping
We are currently shipping our products in Arkansas and bordering states. We use all earth friendly biodegradable shipping products and have a flat fee of $10 per box. We are striving to make recieving our products more convenient than ever. 
Product Availability
To see the products we have available at this moment, simply click on any product categories to the left.  Quantities are limited to what you see.  As orders are placed, the quantities go down instantly.  We update the inventory as new foods become available. 
There is no minimum order size.  You can order anything you see listed.
Naturally, our inventory is changing all the time, and our supply of certain cuts are limited by nature's design of animals.  We need to market all the parts, and everything we sell has healthy and tasty applications.  It's all in knowing what to do with them.  We can help you with that, if you have questions.
Note that many products are priced by weight, so the exact pricing will not be known until we select the actual items that will fulfill your order.  However, the shopping cart will show the approximate total cost for each item.  When the order is placed, you will receive an immediate confirmation email with a copy of your order, including the approximate pricing.
---
We Appreciate Your Business
We work hard to provide healthy, wholesome products to our customers in the region.  You won't find meat products like ours in your local supermarket. Our meats are raised in a way that's environmentally sustainable, truly humane, and naturally healthy. 
Please order from us in the knowledge that you are doing the right thing for your family, your region, and our small business.  Let's build a better future together.   Call or email us at 870-917-8178 circlekmeats@gmail.com